ROCKMEETING  5/5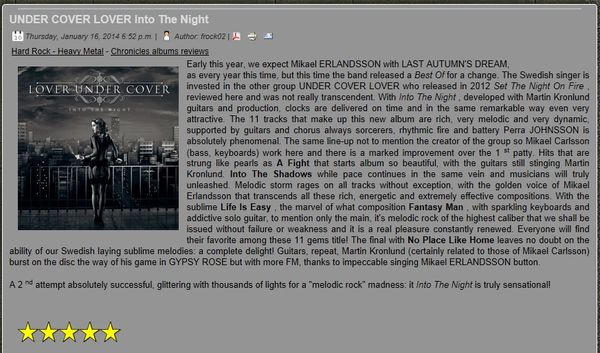 FIREWORK MAGAZINE  9/10
METAL TEMPLE  10/10
CLASSIC ROCK AOR ISSUE 11.  7/10

SWEDEN ROCK MAGAZINE 7/10
TRANSLATION:
Mikael Erlandsson (Last Autumn 's Dream) - Is a name that stands for quality music. If you add Martin Kronlund (guitar, Gypsy Rose , Phenomena) , Perra Johanson (drums , Coldspell) and Mikael Carlsson (bass) you get Lover Under Cover, and this is their second album. The developments since the debut "Set the Night on Fire " (2012) is not overly big, but certainly noticed when they have get a little harder. As shown by the wisecracking borrowing of Diamond Heads old earring " Am I Evil " before the chorus in "Playboy no 7 ". Of course it's still on melodic hard rock of the Scandinavian school - not unlike Michael and Martin's band Salute . When Michael presses his voice as the hardest he reminds strongly of how Michael Voss (Mad Max) sang in the early years of Casanova. It's so fantastic good. Just listen to "The game is on". On the paper feels Martikas old hit " Toy Soldiers " not as an exciting choice of cover song - the result , however, say something completely different.
UBERROCK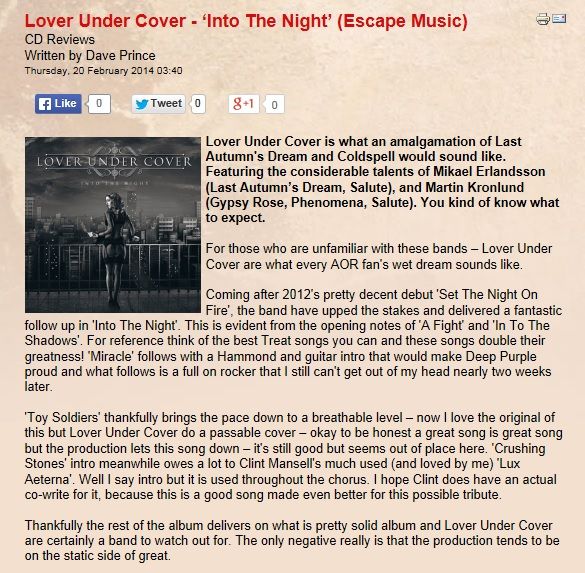 THE ROCKPIT  4/5

MELODIC ROCK  90/100
 
CLASSIC ROCK MAGAZINE ISSUE: MARCH 2014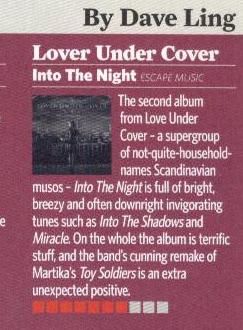 GLORY DAZE  9/10
POWERPLAY MAGAZINE ISSUE 162.  7/10
ROCKTOPIA
DANGERDOG  4/5
HARD ROCK HEAVEN  9/10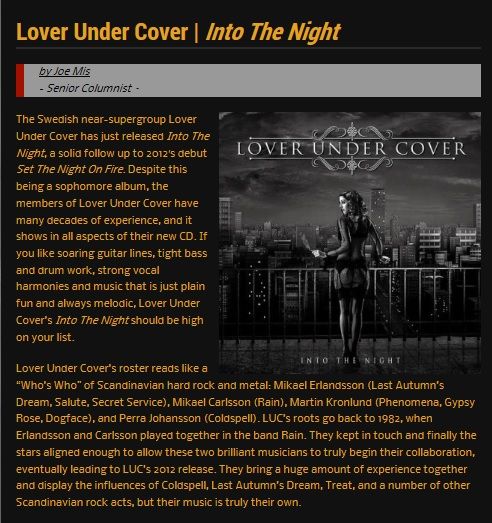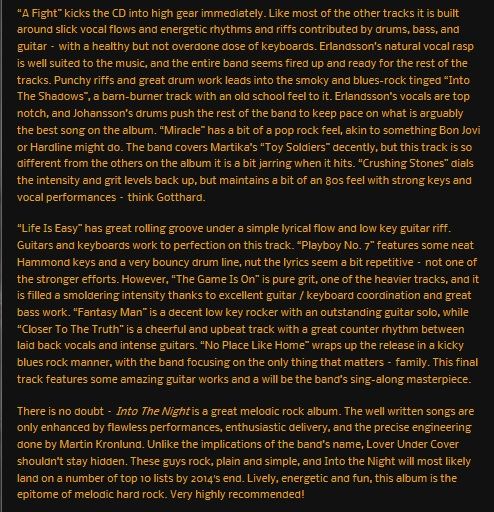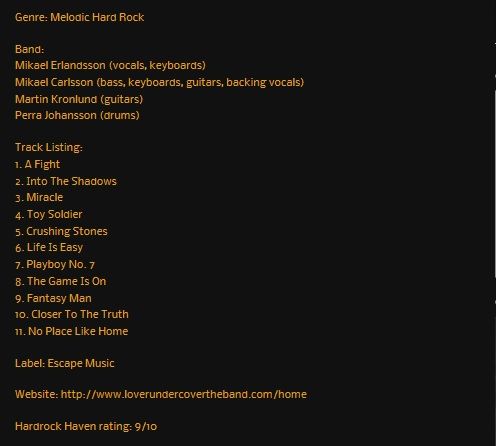 METAL INTEGRAL 17/20
METAL GLORY
TRANSLATION:
Attention AOR, hard rock fans and fans of the band LOVER UNDER COVER -  comprising members from groups such as Last Autumn's Dream, Coldspell , and Gypsy Rose . All of these bands should be household names with fans of the genre,  now working together again under the banner of Lover Under Cover,  who had their first album out about 1 year ago.

So now on to album number two and immediately the opener " A Fight" has the radio friendly melodies and is a worthwhile listen. Followed by "Into the shadows" which sounds like the soundtrack to a hit 80s TV series which then made it into the charts. You would expect something cheesy and soft with "Toy Soldier" , yet the melodies here are also outstandingly arranged. Set in the middle of all the big hard rock songs like Life is Easy, Playboy No.7 and the Game is On, although they are very tidy, they are not absolutely revolutionary within the genre .

With " No place like home" there is another slight West coast / AOR flavour , a nice change when chilling out , LOVER UNDER COVER have recorded a significantly better album for  their second offering. Even if the majority of the stronger songs are to be found in the first quarter of the album. Hard rock fans should still listen to this second album from the band , however, be prepared that the AOR here is usually harder and little edgy , but perfectly delivered
LADY OBSCURE
ROCK METAL 4YOU  7/10
MINIZINE BEROCK  9/10
EXTENDED MIX
TRANSLATION:
The Swedish super band LOVER UNDER COVER is back after more than a year since the debut album "Set the Night on Fire " was released . This "super band" consists of drummer Perra Johnsson from Sweden's northernmost export , ColdSpell , Martin Kronlund , the producer who also plays guitar with Gypsy Rose and Salute, Mikael Erlandsson, who is one of the hardest working singers in , among others, Last Autumn 's Dream and Salute and Mikael Carlsson, who is the band's bassist and engine but simultaneously not previously had any major successes more than that he once played alongside Mikael Erlandsson in the band Rain .

"Set the night on fire" was a really good debut album which I especially liked that the songs were good , and that again that Mikael Erlandsson sing rock . After Years of multiple Last Autumn 's Dream albums, I think has made him more and more blase as a singer since the band's tiles just gets sadder and sadder . When LOVER UNDER COVER now returns with his second album , " Into the Night", so unfortunately it 's raw and shabby given way to a more polished surface when the production is a little too undistinguished to my taste. But this band is still far more interesting than Michael E's other big successful band!

This is about very experienced musicians and the AOR as the band plays is also very " experienced " . It is very good and well written songs straight through the entire album , but it will also become a little indistinct and uninteresting at times . For once , it's a cover that was first to my taste , and they have chosen a rather odd song to take their own sound . It is Martikas big pop hit "Toy Soldier " which the band actually doing superbly well and Erlandsson making one of their very best efforts. Another trail , of his own harvest, which is really lovely is "Into The Shadows " and here you can hear Michael's greatness when he uses his soulful rock voice . It is soft and confident in the verses , while he empties all his power in the lurch and then sit back in the neat melodic chorus.

"Miracle" is also a song that I hold as one of the better. With a sleek , heavy and simple guitar in initial stage , a catchy verse and an irresistible chorus that makes the song remain in memory for a long time. Additionally , I must also mention the wonderful glorious " Life is easy" , a track that describes the AOR , I would say ; positive melodic , simple and really good ! The remaining songs on the album is still good, but these songs lack the ease of getting caught with his chorus or with the hook, if you know what I mean. Chorus of " Fantasy Man" is perhaps an exception , the way to the chorus gets easily forgotten . It is routinely done but maybe not with the whole heart .

LOVER UNDER COVER 's sequel is sure to satisfy everyone who bought the debut , because it's an album that almost lives up to its predecessor. But the debut was better, it can not be denied ....
ROCKANGELS
METALLUS
FULL THROTTLE ROCK
BURRN MAGAZINE JAPAN  84/100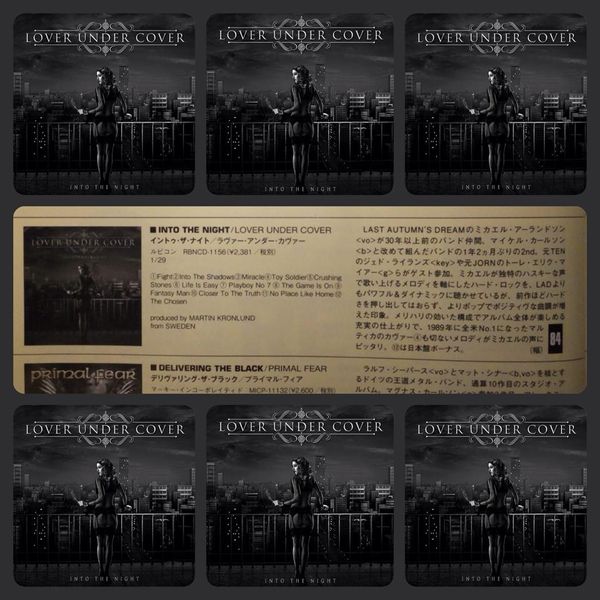 TRANSLATION:
Bandmates 30 years ago Mikael Erlandsson (vocals) of Last Autumns Dream &  Mikael Carlsson   (Bass) reunite for their second album together as Lover Under Cover. They are joined on drums by Perra Johansson  (Coldspell / Rage of Angels) & Martin Kronlund (Dogface / Salute) on guitar. 
Mikael Carlsson has created a melodic hard rock album whose tracks are  brought to life by Mikael Erlandssons  distinctive husky vocals similar to the dynamic & powerful work with  Last Autumns Dream. This album is not as raw as their first outing together but is a more melodic offering. The album is excellently produced and the material is varied. Mention goes to the 4th track which is a darker more atmospheric version of Martika's 1989 US No. 1 'Toy Soldiers'.  The atmospheric quality of the track being a perfect fit for Mikael Erlandssons  expressive voice.. There is also a bonus  track (12) for Japan only.

 
HEAVY PARADISE  9/10
 
AOR WATCHTOWER
TRANSLATION:
Lover Under Cover debuted in the AOR/Melodic Rock universe with the excellent "Set The Night On Fire", but despite being a new act, the band had no newcomers in its lineup, comprised by seasoned musicianas such as vocalist Mikael Erlandsson and the multi instrumentalist Mikael Cralsson, together with guitaritst Martin Kronlund and drummer Perra Johnson.  With a fine album as their debut, the inevitable question is : will they be capable of keeping the level up? The answer is a loud NO. The level hasn't been kept, it's been RISEN!!! With no obvious improvement in the melodic department, Lover Under Cover brings a more relaxed Mikael Erlandsson, who delivers top notch performances of the excellent songs included on the album.Layers and layers of well-placed keyboards share space with omnipresent guitars, as you can easily check on the totally excellent "Crushing Stones", "Life Is Easy", "Playboy #7", "Closer To The Truth" (that sounds a looot like Last Autumn's Dream) and "No Place Like Home".It's also worth mentioning "A Fight", "Miracle" and the cover version for "Toy Soldiers", originally recorded by Martika in 1988. The new version sounds a little heavier and has a more contemporary aura, making it one of the highlights of the album.If you enjoyed Lover Under Cover's debut album, I'm pretty sure "Into The Night" will make you fall for it as well. The album hits stores on Jan. 24th, on Escape Music.


 
ROCKREPORT
GET READY TO ROCK ME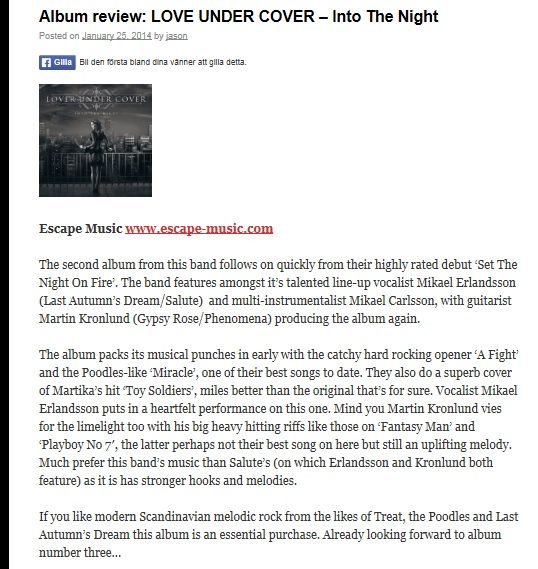 METAL IT
TRANSLATION:
The task of a second album by a "supergroup" is something that shouldn't be underestimated, even nowadays  when collaborations are "in fashion" and are largely facilitated by tthe wonders of technology and "globalization."For a project to work there must be a subtle blend of art and alchemy  between the protagonists  and then between the artists and the public, waiting to be impressed.

The positive feedback received by their debut album 'Set The Night On Fire' must have convinced Mikael Erlandsson (Last Autumn's Dream, Health, ... one who is well accustomed to the practice of "cooperation" already ...), Martin Kronlund (Gypsy Rose, Health, Phenomena, Dogface), Perra Johnsson (Coldspell) and Mikael Carlsson (Rain, alongside Mikael Erlandsson) to work on a new album under the name Lover Under Cover for the enthusiastic fans of melodic hard rock with Nordic roots.

So,  "Into the Night" is a  successful and engaging mix of Treat, Da Vinci, TNT and Skagarack, with hints of Damn Yankees,  Dokken, White Lion and Bon Jovi. Nothing "revolutionary," then, or that has not been experienced before in performances  of Last Autumn's Dream, Health and Coldspell, yet the quality of the disc is such that the overall experience is a technically consistent and emotionally cool and rewarding one, basically everything you would ask for in an album Arrangements are always very convincing, adding a bit of "modernity" to a genre that can sound dated, add in some impressive compositional skills, "sensitive" and incisive guitar work by Carlsson (also responsible for a brilliant harpsichord arrangement) and Kronlund, a precise rhythm section,  even more eloquent is the wonderful voice of Mikael Erlandsson, inescapably bewitching,, taking the listeners hand, leading them to the Church of Melodic Rock. 

The resonance of "A fight," some  flashes of hard-blues (that would make The Rasmus jealous!) on "Into the Shadows", the traces of  proto-glam in the track "Miracle",  the spirited sophistication of "Crushing stones" and the chrome -metal class of "The game is on"  evidences their eye-catching and expressive power, while the masculine and seductive touch of sentimentality on "Life is easy", " Fantasy Man "and" No place like home ", skilfully blend  to make a rich and varied emotional assortment.

Slightly less effective are  the ' hard number 'Playboy No.7 " and the Scandinavian AOR "Closer to the Truth" but a deserved final mention is due for the beautiful cover of "Toy soldiers", a huge hit in the eighties by Martika, a name that will inevitably evoke many fond memories , but I am sure that music lovers will remember the evocative melody of the song (captured perfectly here),  filling their senses as much as the face of the pretty brunette did.
In short, this album is highly recommended.
 
METALFACTORY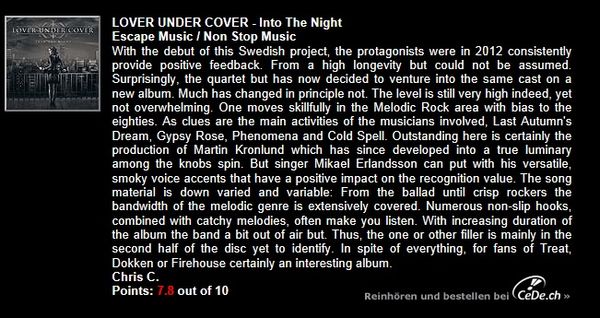 CHORDS AND KEYS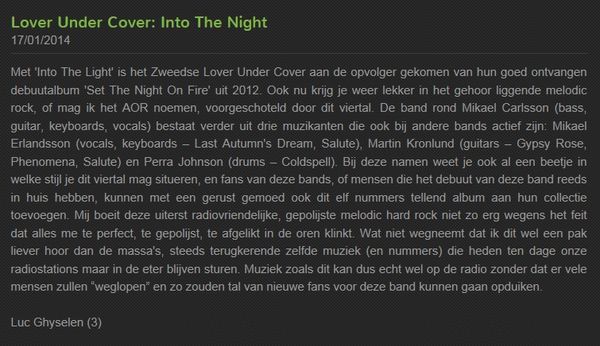 TRANSLATION:
Into The Night is  Swedish band Lover Under Cover's  follow up to their well received debut album ' Set The Night On Fire ' from 2012. You now get to hear more of the melodic rock or might I say AOR served up by this foursome. The band around Mikael Carlsson (bass, guitar, keyboards, vocals) consists of three musicians who are also active in other bands: Mikael Erlandsson (vocals, keyboards – Last autumn's Dream, Salute), Martin Kronlund (guitars – Gypsy Rose, Phenomena, Salute) and Perra Johannson (drums – Coldspell). With these names you know in an instant what style of music to expect from this foursome, and fans of these bands, or people who already have heard the debut album from this band, can confidently add this album to their collection. Across eleven tracks. I am transfixed by this extremely radio-friendly, polished melodic hard rock because of the fact that everything is so perfect and polished,. I consider this as a tailored suit rather than an off the rail made to suit the masses, who's recurrent themes (and numbers) that dominate our radio stations today yet continue to be consumed. Music like this can really do well on the radio, without that there are many people will remain unaware and so lots of potential new fans for this band would be missed.
 
ROCK UNITED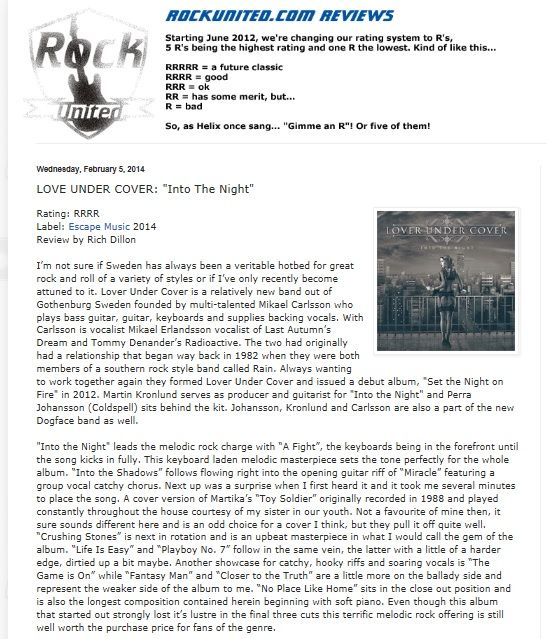 VIA NOCTURNA
TRANSLATION:
Lover Under Cover surprised us with their first album 'Set The Night On Fire' released back in 2012. Now less than 2 years later the brilliant Swedish quartet returns with the sensational follow up 'Into The Night'. As well as keeping the same line up they also keep the word 'Night' in the title for this new album,  which is another masterclass on how to make great melodic hard rock.

Along with lots of guitars and some well layered keyboards, there is the introduction of gorgeous melodies and a voice that breathes pure rock - all these ingredients combine to raise 'Into The Night' to a completely different level. Especially impressive is the sensational guitar work, the thumping riffs, soaring harmonies and melodic and emotive solo's that all draw you in.

More importantly the mood of 'Into The Night' is set by the mature , elegant nature of the songs - some of which are very radio friendly. We can talk about songs like Into The Shadows , Crushing Stones , The Playboy 7 , Fantasy Man or No Place Like Home all look likely to become anthems in melodic hard rock this year. This album is highly recommended.
 
LORDS OF METAL
NUROCKZ
TRANSLATION:
Names like Coldspell , Last Autmn 's Dream or Treat monopolise much of the limelight where Swedish Melodic Rock is concerned. We're used to seeing how this fertile land provides new bands day after day and year after year. Together with established bands ike  Treat, HEAT , Eclipse, Poodles & Europe you are adding new names that are following in their melodic rock footsteps. The start of a new chapter of melodic rock will be titled  Lover Under Cover , formed from the first three bands quoted in the beginning of this analysis .Featuring Mikael Carlsson (bass, keys and vocals), Mikael Erlandsson (vocals and leader in Last Autumn's Dream & Salute ), Martin Kronlund (guitars in Gypsy Rose, Phenomena & Salute ) and Perra Johansson ( on drums and also a member of Coldspell ) they have created another remarkable piece of Melodic Rock and AOR work.
 
Great compositions becoming probably the best of the early part of this year, also in addition to a great production that makes this second album a fitting follow up, something in my opinion that takes up where the first left off  a year ago. And that, believe me was very good. Right from the initial " A Fight" we discover an authentic collection of topics in a solid format accentuated by masterful vocals. Erlandson's vocals are unmistakable and are supported throughout by a thumping rhythm section that is key in the final product that blends perfectly with clean and clear guitars mixed to perfection .
 
I love " In To The Shadows" with a more than addictive chorus and a rhythm of sublime euro AOR . No slouch either is the honeyed and delicate "Life Is Easy". On the other hand , the guitars seem to dance the perfect dance with the keys in an absolutely great song called "Miracle " . The same goes for "Crushing Stones " spotless from top to bottom "Playboy No.7 " very cool Mad Max .Along with  " Toy Soldiers " a mythical version of the famous one hit wonder Martika from by the late 80 's. Terrific final work Lover Under Cover .The final touch is a very subtlely put AOR "Fantasy Man" and the magnificent "Closer To The Truth" .
 
This is another great Melodic Rock album for this year . If this continues , it will be another great year .

 
GRANDE ROCK
MELODIC NET  4/5
HISTOZIC
TRANSLATION:
I was eager to discover the new album by Lover Under Cover because the first album was damn damn good and the other group (LAD) is led by one of my favorite singers in the FM hard rock style Mr Mikael Erlandsson. The absence of a new Last autumn's dream album gave me extra motivation to hear Mikael Erlandsson on new compositions. I purchased the Japan CD, I discovered happily opening the cardboard box a very successful cover aesthetically, the album, entitled "Into the Night".

"A fight," the first track, starts the album in a very beautiful way. A well punchy song, hard muscled Class AOR/FM, a logical first opus. "Into the Shadows" continues in the same vein with a rhythm that pummeled and fairly heavy riffs. The group poses a great melody and a catchy chorus. "Miracle" starts on with a bass / drums / vocals and guitars that come to build up for the chorus. A fairly standard piece of course, but it's still tough and the guitar solo is working successful. It continues with a cover 80's "Toy soldiers" (song that could be a nod to the other group of Erlandsson) sung at the time by Martika . A semi-ballad that has its charm, the voice of Erlandsson making the difference and fortunately still a solid rhythm. "Crushing stones" restarts on a speed pace, always with the melody mixed with a good energy: Try To listen to this one in your headphones or smartphone .... "sacrilege". "Life is easy" is a good piece of hard-fm but still lacks a little something, even if the song goes crescendo over the tracks. Too bad the solo is too short. "Playboy # 7" is in the style of Last Autumn's Dream and is accompanied by a great melody and a good break: a very good song.

"The game is on" continues in the same style and begins with a good hardcore riff. The piece holds up, even if I may be missing a break which really gave it an extra dimension. "Fantasy Man" mid-tempo song is perfect with a great melodic chorus. "Closer to the truth," is the third co-written by David Reece, is undoubtedly the best of the three. A good song makes me think of a title of Last autumn's dream, always a good melody and rhythm that makes this block. "No place like home on the European release, ends the album is a melodic class act with the hoarse voice of Mikael which always works wonders and deliver the same thrills. One of the best tracks on the album. "The chosen one" bonus track of the japan import is a good speed track, a melodic hardcore with a superb chorus. The bonus track is so worth a visit.

A  successful second album that will appeal to fans of melodic hard rock with a punch, Without being the album of the century you will have a great time. Michael Erlandsson continues to appreciate his many projects and offer us high quality albums.

 
ROCK METAL ESSENCE
TRANSLATION:
We really liked 'Set The Night On Fire' , the debut album of Lover Under Cover, the Swedish supergroup led by vocalist  Mikael Erlandsson and talented guitarist Martin Kronlund . Now we have more from them with 'Into the Night' , a polished hard rock album that hits stores January 24 from Escape Music . So let's see why ..
 
Two years have passed since their debut, within the group essentially nothing has changed.   the really big riffing Kronlund's, hot,  sometimes raw emotional work and vocal melodies, along with Erlandsson, who  continues to seem a lot more comfortable here than in (for me) declining recent work with Last Autumn's Dream. Extraordinary vocals that are based on solid songwriting even better than the ones shown on 'Set The Night On Fire'. 
 
There are eleven tracks of pure flawless performance, backed up by solid lyrics, this album is an absolute delight for every lover of melodic hard rock, with a sound that sits somewhere in the middle between the sounds of Dokken, Gotthard, Bon Jovi, Health, and again, Last Autumn's Dream. AOR and hard rock that make you raise your hands to a variety of songs inspired by the mood of the night. With exquisite style: a nod to the eighties, combined seamlessly with a modern feel (especially in bright and radiant sound production), which has an irresistible appeal. 
 
Into The Shadows is the real hit from the album, a strong melodic riffing beautiful bride in full dress with a carpet of keyboards for support.  Along with it, the shining A Fight that oscillates somewhere between new and old, the cover of Martika's Toy Soldiers ,  a ballad of intense emotion and crowned by a virtuoso vocal performance,  the incredible feeling of The Game Is On , with thumping powerful guitar parts, absolutely breathtaking. Very much worth mentioning is the concluding tracks Closer To The Truth and No Place Like Home , the first with a loud infectious refrain, the second a semi-acoustic track that gives a lightness and catchiness to the piece. 
 
With Lover Under Cover 'Into The Night' we have a great quality product, a perfect example of melodic hard rock, combining powerful driving instrumental performances with the atomic vocals of Erlandsson. The smell of the night, the great appeal of which has both the power of hard rock and also melodic lightness, this album confirms the good feeling about this band that we had when we listened to the debut of two years ago. Honestly, an album not to be missed.

 
MUSICREVIEWS DE
TRANSLATION:
So, it's second time out for Lover Under Cover, members of Last Autumns Dream (Erlandsson), Gypsy Rose (Kronlund),  Coldspell (Johannsson) & Lover Under Cover (Carlsson) together as they were for the debut album.  The album has a slightly quicker tempo but the hooks are still evident ("Miracle" is a driving hit, 'Life is Easy" would have been too heavy to make a mainstream playlist rotation) even the more commercial "Crushing Stones" sounds different from the material on the debut album but sits perfectly on this album that showing how the band have grown together.
 
The solid sounding "A Fight" and both "Fantasy Man" & "Toy Soldiers" are seamlessly interwoven with real ass kicking tracks like "Playboy No. 7" & "Into The Shadows" all of them complemented by awesome vocals and lush keyboards. The ballad "No Place Like Home" is reminiscent of Bon Jovi at the height of their musical powers and "The Game Is On" serves maybe as a prediction for the future as live on stage we get the impression that we will not see "just another one of umpteen Scandinavian Melodic Hard Rock bands" like so many we have written about before.
 
CONCLUSION: Lover Under Cover with "Into The Night" have evolved. They are playing hard rock with a more melodic edge, but above all have recorded numerous catchy and more importantly authentic sounding compositions, which make them candidates for longevity. Extremely important in this overcrowded field
FLASH FORWARD MAGAZINE
TRANSLATION:
Returning with a sparkling new album are the band from Gothenburg (Sweden), who made their debut in 2012 with the well-received "Set The Night On Fire". Mikael Erlandsson (voc, key - Last Autumn's Dream, Heartbreak Radio, Radioactive, Health, Northern Light, etc.) and Mikael Carlsson (bass, ch, key - Dogface)  laid the foundations of this group around 1982 when they were in the band Rain together, since then their paths have crossed and divided several times,  in this project the two are doing stunning work and are delighting fans with excellent melodic hard rock compositions straight from the Scandinavian / American school .Ably assisted on this CD again by Martin Kronlund (guit - Dogface, Gypsy Rose, White Wolf, Health, Overland) and Perra Johansson (Drums - Coldspell), LUC returns with an album of eleven tracks of melodic and hard rock of an even higher standard than "STNOF." 

"A Fight" is a great opener with it´s pace, the powerful vocal melodies and an instrumental section which transfixes the listener, this formula is repeated with even greater impact in the subsequent "Into The Shadows" supported by robust keyboards and a refrain that soon engraved itself in my mind. "Miracle" American AOR reminiscent of Bon Jovi in their heyday,  its more mainstream, and has catchiness and immediacy, whilst  "Toy Soldiers" is a cover of a 1988 hit by pop singer Martika,  it keeps the spirit alive with its dark lyrics about drug abuse. All in all do not overlook this rock version, however, the original spirit of the band returns with the strong and epic "Crushing Stones" - classic Scandinavian-style hard rock. 

"Life Is Easy" sounds almost like a hard rock version of Abba, given the apparent simplicity of the vocal and instrumental lines, but its 'pretty' atmosphere is soon swept away by the wicked and sleazy "Playboy No. 7" anthemic yet rather stereotypical in that it uses songwriting elements that also feature in "The Game Is On", but at least with this there is  greater inspiration and an attempt to work out the song in a more personal way. "Fantasy Man," "Closer To The Truth" (what a great chorus!) And the semi-ballad "No Place Like Home" close the album by focusing on the more melodic and AOR flavours of a band that interprets with taste and expertise within the confines of the genre. 

A good disc embellished by excellent vocal performances from Erlandsson who proves to be better with this project in comparison with the latest evidence of the Last Autumn's Dream, but I think the LUC can be even better, they have massive potential. That being said, this is still a worthwhile collection of songs that I would recommend buying

 
SEA OF TRANQUILITY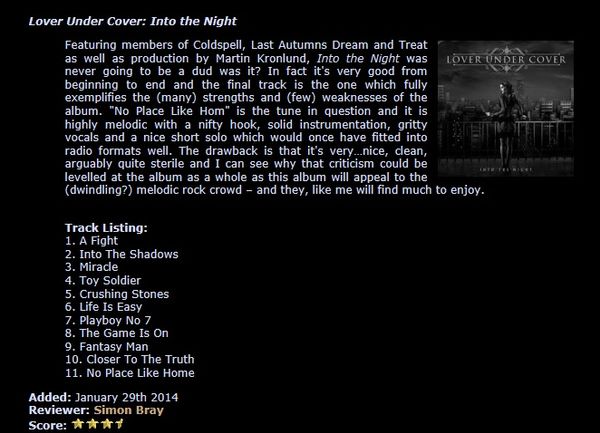 DISCTOPIA  8/10
TRANSLATION:
This is the first big surprise in 2014! At least as far as the genre Hard Rock / Melodic Metal. If you make a comparison with COLDSPELL and LAST Autumns DEAM, which is quite logical because the band founder Mikael Carlson (bass, guitar, keys and vocals) with vocalist Mikael Erlandson from LAST Autumns DREAM and drummer Perra Johansson (COLDSPELL). The quartet is then completed by Mr. Martin Kronlund. It is Kronlund that is the surprise! I like the sound of his bands and projects, but in recent months it has been a bit much for me. The sound of the projects was so strongly influenced by Kronlund that they have all kind of lost of identity. And then from nowhere this quartet puts out an album that takes place in the late 80s and early 90s that with no problems connects to all the great hard rockers / Melodic Metal band from Sweden. Now Jump into the fun...

No, you do not need acclimatization, no preview, nothing! It is all there ! Somehow I feel like the time was when TREAT and their hit "World of Promises". Heard and love! Yes, 1988 has done her own difficulties in the video, the sexy lady. 2014 UNDER COVER LOVER create it without "sexy lady". Earwigs and toy soldiers

"A Fight" or "In To The Shadows" can not be done much better! Melody, hardness, dramaturgy that fit the songs, and even after 10 listenings you have not heard enough. The Swedes proves courage with the cover version of "Toy Soldier". To chose to cover a pop classic is a gamble that certainly critics will call on the plan. I do not want to connect! The 'ol chestnut "gets a smell, lick of paint and the mind's eye I can see how in a suitable concert / festival party starts. Sure you can say songs like "Life is Easy" bring the Hard Rock no new flute tones of money and also life is sometimes just not so easy. But, the Melodic Metal genre is the youth outgrown and now may be in his Middleage? Early thirties alone the "Passion" makes the music from "Myth" connect.

Pending the completion of the disk is likely to delight not only Hard Rock / Melodic Metal disciples, but also those who are not averse in addition to the very harsh sounds of one or other Melodic disc with Keyboard. The pleasant, yet not boring voice of Mikael Erlandson rounds off the disc and allows it to be the icing on the cake. A really good disc and I rewards the album with a 8/10
 
HARD ROCK INFO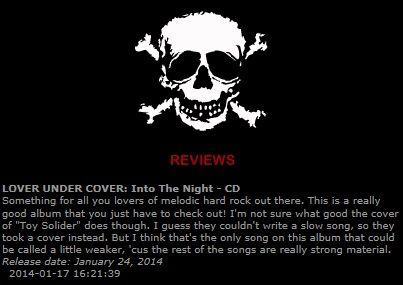 NI ROCKS
METAL UNDERGROUND
TRANSLATION:
Lover Under Cover are back? So I have to admit to being really ashamed that I have not heard of these Swedes before now!!  Especially if you are a fan of  classic melodic hard rock like I am  But Like I said, up till now  yours truly knew nothing of the group and their latest offering "Into The Night"  which is  my baptism of fire with the guys from the far north.  Certainly there are many temples in this genre and some tend towards being rather more sickeningly kitschy. Lover Under Cover, are not like this at all, however, and give us a very mature offering in the genre of melodic rock.
 
You will have undoubtedly heard of Gotthard  and this singer's voice has a similar quality to that of  Nic Maeder . The album possesses incredible power and although it sits in the melodic rock genre it sweeps you like a whirlwind from start to finish. The thunder of cheering fans of the genre will be evident, because of the perfectly crafted anthems. No questions or doubts remain  because the guys  bring us a masterpiece that will shake the thrones of many of the great bands from this area.
 
Even the sweeping ballad tracks aren't stale or tired but show the smooth polished side to the band and these tracks are equally impressive. Certainly the material may not be the modern rock sound, but it does not have to be. Lovers of this style will therefore be absolutely thrilled when the rock big guns are brought into use. You are take on a journey covering a wide field of material, with the bouncing party music, making your feet itch to dance, because everything is infected by the barn dance ass shaking attitude in those tracks. The band members have lots of musical experience in this genre which explains why you have such a masterpiece here.
 
Conclusion: "Set The Night On Fire" the butter that goes with bread and butter,  it also belongs in the collection of every AOR and classic melodic rock lover. Simply superb from Sweden and good competition for Gotthard and others. Two thumbs up for the Wasa Rocker!!

 
ROCKNYTT
TRANSLATION:
Lover Under Cover is the result of a successful mix of members from among others Last Autumn 's Dream , ColdSpell and Gypsy Rose. In the line up are Mikael Carlsson ( bass, keyboards , guitar and vocals), Mikael Erlandsson ( vocals, keyboards ), Martin Kronlund (guitar) and Perra Johansson (drums). If you read on the band's website it's clear that the idea of launching the band has been around for decades , but it was not until 2012 that the band finally materialized and debuted with the album "Set the Night on Fire " .

Now they are current with album number two, " Into The Night " . Anyone who has heard and appreciated the band's first album certainly will not be disappointed with this one. The music consists this time of the easily accessible , melodic rock / AOR that we got acquainted with the debut album . There are consistently strong melodies , performed by skilled musicians and Michaels smooth raspy voice.

Among the songs that stand out one finds " A Fight " , which like a refreshing breeze opens the album. The subsequent ' "Into The Shadows "offers an intense vocal performance , and " Miracle " spreads a happy and positive mood using the Hammond organ . " Toy Soldier " is a cover which I unfortunately got tired already when it was popular the first time. Therefore, I find it difficult to appreciate the song without experiencing it rather tedious , although the band really has finalized a really excellent cover version . The last song I want to mention is "Playboy No:7" . It is a little tougher tempo than the other songs , but has a very catchy chorus that stays in your head long after the music has ended. This is an album that will cheer you up !

 
POWER OF METAL
SLEAZE ROXX
AHMROCK
 
MAYFAIR MALL
 
ROCK HARD MAGAZINE